After a much-needed vacation, we're now all caught up with Robotic Empire – Online Store orders and ready to jump back into the thick of it. Just in time too, as a new label-affiliated release is ready to roll along with a HEAP of awesome stuff added to the store… so here ya go: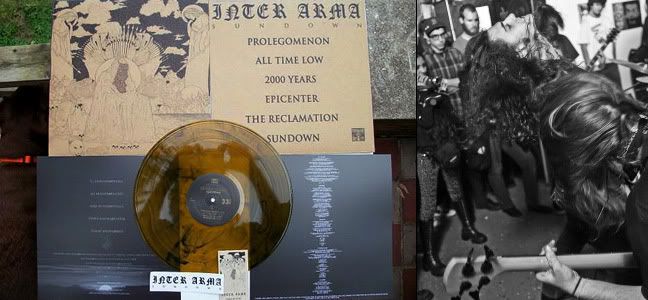 INTER ARMA is a Richmond metal band we've watched grow over the past few years into a truly formidable force. Tastefully spanning most metal genres (blackened chaos through downtrodden sludge), these young freaks have so much going for them that it's pretty amazing to get to work with them in on the ground floor. I think most people who've witnessed them live expect great things for INTER ARMA, and the Mirror Universe partner label (co-releasing with longtime dawgs Forcefield) have just dropped the incredible Sundown debut LP.
Recorded all analog last year in rural Virginia, INTER ARMA deliver six lengthy songs on their first album (seven on the CD solely released by Forcefield). The vinyl includes a download code of all seven songs, and intricately trippy cover art by RVA native Eliza Childress. Printed in black ink on brown chipboard covers, the INTER ARMA debut album finally does the band a bit of justice, and we're seriously thrilled to have a small part in what is undoubtedly one of Virginia's finer exports in quite some time.
* The first song from the album can now be heard on our Facebook page.
* Two different songs (plus an older demo) from the album can be heard on the band's Myspace page.
* The band is embarking on an EPIC full-usa tour with brother band BASTARD SAPLING from June—>August. GO SEE THEM LIVE for the full experience: full dates available here.
Sundown vinyl is available now in the Robotic Empire – Online Store (along with the killer INTER ARMA / BATTLEMASTER split… both bands' vinyl debut), and Sundown vinyl or CD are available from Forcefield Records as well.
Besides the new label-affiliated release, we've stocked a solid stack of stuff in the Robotic Empire – Online Store. Exclusively rock-solid new items (two THOU splits, new [old] TORCHE demos 10″, KRALLICE, NADJA, SICK / TIRED, both killer "Clone" comp LPs, etc)… plus some gnarly re-stocks and over 250 (!) newly or additionally discounted items. That brings the massive sale list up to nearly 600 items. We're running out of room again, so we've discounted almost everything we carry with a quantity of 3 or greater, so check out that massive list of stuff as there's huge discounts on an expansive variety of genres and formats. Here're the full lists…
NEW ITEMS:
* Aidan Baker / Thisquietarmy – A Picture of A Picture CD (Broken Spine Productions) $10.99
* Arms Aloft – Comfort At Any Cost Cdep (Gilead Media) $5.99
* Bersarin Quartett – Self-Titled – 180 GRAM VINYL 2×12″ (Denovali) $19.99
* Call Me Renegade – The Unnamed CD (Blackhouse) $4.99
* Celeste – Morte(s) Nee(s) – BROWN COLORED VINYL 2×12″ (Denovali) $30.99
* Clone (Salome / Monarch / etc.) – Play Slow Die Fast Vol.1 12″ (Blind Date) $14.99
* Clone (Thou / Moloch / etc.) – Play Slow Die Fast Vol.2 – BLUE COLORED VINYL 12″ (Blind Date) $14.99
* Drainland / Grinding Halt – Split 10″ (Suburban Mayhem) $9.99
* Gangly Youth – Self-Titled 7″ (Fruits & Vegetables) $4.99
* Hallowed Butchery – Canticle Of The Beast Cassette (Vendetta) $7.99
* Hallowed Butchery – Funeral Rites For The Living 12″ (Blind Date) $14.99
* Her Name Is Calla – Long Grass 10″+CD (Denovali) $12.99
* Inter Arma – Sundown – BLACK VINYL 12″ (Mirror Universe / Forcefield) $9.99
* Inter Arma – Sundown – GOLD COLORED VINYL 12″ (Mirror Universe / Forcefield) $10.99
* Iroha / Fragment – Split – 180 GRAM VINYL 12″ (Denovali) $9.99
* Kodiak / Black Shape Of Nexus – Split – 180 GRAM VINYL 12″ (Denovali) $11.99
* Krallice – Dimensional Bleedthrough 2×12″ (Gilead Media) $15.99
* Nadja / OVO – The Life And Death Of A Wasp CD (Broken Spine Productions) $10.99
* Revok – Bad Books And Empty Pasts – 180 GRAM CLEAR COLORED VINYL 12″ (Denovali) $9.99
* Sick / Tired – Highlife 12″ (To Live A Lie) $9.99
* Sugar Skulls – The Little Death CD (Blackhouse) $4.99
* Thou / Mohoram Atta – Degradation of Human Life [split] – SALMON COLORED VINYL 12″ (Halo Of Flies) $10.99
* Thou / Moloch – Tears That Soak A Callous Heart [split] – CLEAR COLORED VINYL 12″ (The Perpetual Motion * Machine) $11.99
* Torche – Meanderthal Demos 10″ (Amnesian) $9.99
RESTOCKS:
* Assistant, The / Takaru / This Ship Will Sink – Three Way Split 12″ (Red Tape) $9.99
* Cancer Conspiracy, The – Omega 12″ – WHITE COLORED VINYL (Gilead) $11.99
* Cannabis Corpse – Blunted At Birth 12″ – STONED EYEBALL (Forcefield) $14.99
* Cannabis Corpse – Blunted At Birth CD (Forcefield) $9.99
* Cannabis Corpse – Tube of the Resinated CD (Forcefield) $9.99
* Caspian – Tertia 2×12″ – MAROON COLORED VINYL (The Mylene Sheath) $19.99
* Catalyst, The – Swallow Your Teeth 12″ – BLACK VINYL (The Perpetual Motion Machine) $10.99
* Catalyst, The – Swallow Your Teeth 12″ – GRIMACE PURPLE COLORED VINYL (The Perpetual Motion Machine) $10.99
* Catalyst, The – Swallow Your Teeth 12″ – RED BLACK COLORED VINYL (The Perpetual Motion Machine) $10.99
* Celeste – Nihiliste(s) 12″ – CLEAR w/ BLACK TRACE COLORED VINYL (Denovali) $14.99
* Envy – Abyssal 12″ (Temporary Residence) $14.99
* Envy – All The Footprints You've Ever Left 12″ (Temporary Residence) $10.99
* Jeniferever – Spring Tides 2×12″ – GOLD COLORED VINYL (Denovali) $19.99
* My Disco – Paradise 12″ (Fruits & Vegetables) $10.99
* Thou / Black September – Thrive & Decay [split] 7″ – RED COLORED VINYL (Gilead Media) $5.99
* Thou / Haarp – Reincarnation Prayer [split] 7″ – RED COLORED VINYL (Mirror Universe) $4.99
* Thou / Leech – We Pass Like Night, From Land to Land [split] 12″ – WHITE COLORED VINYL (Gilead Media) $14.99
* Weekend Nachos – Punish and Destroy 12″ (Cowabunga) $9.99
* Whisper Room – Birch White CD (Elevation) $10.99
* Year Of No Light – Ausserwelt 2×12″ – BLUE MARBLE COLORED VINYL (Music Fear Satan) $21.99
* Year Of No Light / Machu Picchu Mother Future – Split 12″ – RED COLORED VINYL (Music Fear Satan) $13.99
* Young Widows – Old Wounds 12″ – BLUE BLACK COLORED VINYL (Temporary Residence) $9.99
* Young Widows / My Disco – Split 7″ (Temporary Residence) $4.99
250+ MORE RECENTLY/FURTHER DISCOUNTED ITEMS: (amongst nearly 600 sale items and counting!)
* (Fallen) Black Deer, The – Requiem CD (Latitudes) $6.99
* 31Knots – It Was High Time to Escape 12″ RED COLORED VINYL (Forge Again Records) $8.99
* Acrid – Sea Of Sh!t 12″ RED COLORED VINYL (No Idea) $6.99
* Across Tundras – Dark Songs Of The Prairie CD (Crucial Blast) $4.99
* Against Me! – Cavalier Eternel 7″ GREY COLORED VINYL (No Idea) $2.99
* Agathocles – Mincer 12″ (Power It Up) $9.99
* Aidan Baker – Dry CD (Install) $10.99
* Aidan Baker / Noveller – Colorful Disturbances 12″ (Divorce) $13.99
* Amoeba Men, The – Let The Infection Set In CD (CNP) $8.99
* Ancient Sky – Self-Titled 12″ (The Perpetual Motion Machine) $9.99
* Ancient Sky – Temporary CD (Self Released) $3.99
* ANS – Pressure Cracks 12″ (Tank Crimes) $5.99
* ANS – Pressure Cracks CD (Tank Crimes) $5.99
* Antilles – Self-Titled – 1-Sided 12″ (Allergic To Fun) $6.99
* Aquefrigide – Un Caso Isolato CD (Subsound) $6.99
* Arches – 17:48 12″ (Communique) $6.99
* Aseethe / Mauul – Navitas Est Deus 12″ (Scenester Credentials) $8.99
* Aseethe / Shores of the Tundra – Split 12″ (Scenester Credentials) $8.99
* Asschapel – Fire And Destruction CD (Crimes Against Humanity) $4.99
* Attitude Problem – Self-Titled 12″ (Forcefield) $7.99
* Avenging Disco Godfathers Of Soul – This Is The Invasion 12″ (Insolito) $3.99
* Back When – In The Presence CD (Init) $7.99
* Back When – We Sang As Ghosts 2×12″ COLOR VINYL (Shock Value) $13.99
* Bailer – Sing It Like A Victim 12″ (Ash From Sweat) $6.99
* Bathtub Sh!tter – Sh!tter At Salzgitter CD (Power It Up) $11.99
* Battletorn – Reflect the Filth 12″ (Challenge The Throne) $9.99
* Big Business – Head For The Shallow CD (Hydra Head) $8.99
* Black Cross – Widows Bloody Widows CD (Reflections) $10.99
* Black Fire, The – Anthems 12″ (Heathen Skulls) $15.99
* Black Tusk / ASG – Split CD (Hyperrealist) $8.99
* Black Widow – Night Of The Raven CD (Heathen Skulls) $4.99
* Blacklisted – The Beat Goes On CD (Reflections) $10.99
* Blame Game – Honey and Salt 12″ (ABC Group) $6.99
* Blueneck – Scars Of The Midwest 12″ (Denovali) $9.99
* Blues – Snakepit 12″ OPAQUE BROWN BEER COLORED VINYL (1912) $6.99
* Book Of Black Earth – Horoskopus 2×12″ RED COLORED VINYL (Prosthetic) $15.99
* Botch – American Nervoso CD (Hydra Head) $6.99
* Botch – Unifying Themes Redux CD (Hydra Head) $6.99
* Buckshot Facelift – Anchors of the Armless Gods 12″ 1-Sided DARK GREEN COLORED VINYL (Self Released) $9.99
* Burial Year – Pestilence 12″ (Adagio830) $7.99
* Burst – In Coveting Ways 10″ ORANGE COLORED VINYL (Throne) $8.99
* Burst – Lazarus Bird 2×12″ YELLOW COLORED VINYL (Garden Of Exile) $20.99
* Burst – Prey On Life / Origo 2×12″ (Garden Of Exile) $19.99
* Call Me Lightning – Soft Skeletons 12″ CLEAR WITH BLUE COLORED VINYL (Forge Again) $8.99
* Capitalist Casualties – Subdivisions In Ruin 12″ (Six Weeks) $6.99
* Career Suicide – Self-Titled 12″ Repress (Deranged) $9.99
* Carrion – Self-Titled 7″ (Lysergic Drain Soul) $2.99
* Catalyst, The – Marianas Trench + 9″ CD (Perpetual Motion Machine) $7.99
* Catalyst, The / Mass Movement Of The Moth – Two Thousand And Six Six Six CD (Electric Human Project) $4.99
* Chamberlain – Five Year Diary 2×12″ (Hometown Caravan) $9.99
* Child Abuse – Self-Titled 7″ – WHITE COLORED VINYL (Rock Is Hell) $5.99
* Child Bite / This Moment in Black History – Split 7″ – BLUE COLORED VINYL (Forge Again) $3.99
* Chinese Stars – TV Grows Arms / The Drowning 12″ – WHITE COLORED VINYL (Kitty Play) $5.99
* Chronicle AD – Enough Rats 7″ (Hyperrealist) $2.99
* Circle – Arkades 2xCD (Adverse Effect) $14.99
* City Of Ships – Live Free Or Don't CDep (Forcefield) $3.99
* Coffins / Otesanek – Split 12″ – SPLATTER COLORED VINYL (Kreation) $9.99
* Cold Craving – Beacons 12″ – GREEN OPAQUE COLORED VINYL (Exchaton) $11.99
* Comadre – Burn Your Bones 12″+CD+DVD (Adagio830) $10.99
* Comadre – Wolf Ticket 12″ (Adagio 830) $9.99
* Conquest For Death – Beyond Armageddon CD (El Paso) $6.99
* Conversions – Prisoner Inventions 12″ – SKY BLUE VINYL (Level Plane) $8.99
* Cream Abdul Babar – Covering The Track Marks CDep (Underadar) $2.99
* Cream Abdul Barbar / Teen Cthulhu – Split CD (Hyperrealist) $5.99
* Crevecoeur – #1+#2 2×12″ – WHITE PINK COLORED VINYL (Denovali) $12.99
* Cripple Bastards – Variante alla Morte 12″ (Power It Up) $9.99
* Crom – Hot Sumerian Nights 12″ (Blind Date) $10.99
* Crom – The Cocaine Wars 12″ (Forest Moon) $12.99
* Cult of Daath – Slit Throats and Ritual Nights 2×12″ (Nuclear War Now) $16.99
* Cursed – III, Architects Of Troubled Sleep CD (Reflections) $9.99
* Daitro – Y CD (Oto) $8.99
* Daleth / Blue Shift – Split CD-R (For Documentation Only) $4.99
* Daybreak / Godstomper – Split 12″ (At A Loss) $6.99
* Deadsea – Desiderata 12″ (Chrome Leaf) $13.99
* Deleometer – Rotation Um Die Ich-Achse 12″ (Asymmetrie) $11.99
* Descolada – Self-Titled CD (Gasping For Breath) $4.99
* Drain The Sky – Haunted By Rivers 12″+CD – BLUE COLORED VINYL (Level Plane) $10.99
* Dreamed Yellow Swans – Self-Titled CD (Deleted Art) $3.99
* Dysrhythmia / Rothko – Fractures CD (Acerbic Noise Development) $7.99
* Ed Gein – It's A Shame… 12″ – RED COLORED VINYL (Shock Value) $9.99
* Ehnahre – The Man Closing Up CD (Sound Devestation) $5.99
* Elder – Self-Titled 10″+CD (Forge Again) $7.99
* Elder – Self-Titled 12″ (Electric Earth) $16.99
* Empire! Empire! (I Was a Lonely Estate) – What It Takes to Move Forward CD (Count Your Lucky Stars) $7.99
* Enola Grey – Cabal CDep (Feeling Faint) $2.99
* Eulcid – Hope: And Songs To Sing 12″ (Altin Village) $8.99
* Exosus / Clancy 6 – Split 7″ – GRAY VINYL (McCarthyism) $2.99
* Expectorated Sequence, The – Hairbomb CD (New Romance For Kids) $7.99
* Extreme Noise Terror – Law Of Retaliation 12″ (Power It Up) $10.99
* Father Phoenix – Large Bodies 12″+CD – CLEAR COLORED VINYL (Forge Again) $7.99
* Flood – Native CD (Meteor City) $7.99
* Foot Village – Self-Titled 7″ – WHITE COLORED VINYL (Rock Is Hell) $6.99
* Forensics – Hogback Mountain Sessions Vol. 1 12″ (Magic BUllet) $5.99
* FPO – 2003-2008 Recordings CD (El Paso) $6.99
* Frodus – Conglomerate International 2×12″ (Gilead Media) $15.99
* F' The Facts – Disgorge Mexico 12″ – WHITE COLORED VINYL (Relapse) $8.99
* Genghis Tron – Board Up The House Remixes Vol. 5 12″ – MAGENTA GREEN SWIRL COLORED VINYL (Crucial Blast) $9.99
* Gersch, The – Self-Titled 12″ – WHITE VINYL (Shock Value) $7.99
* Get Rad – I Can Always Live 12″ (Hyperrealist) $12.99
* Get Rad – I Can Always Live 12″ – CLEAR COLORED VINYL (Hyperrealist) $12.99
* Get Rad – I Can Always Live CD (Hyperrealist) $7.99
* Get Rad – Say F' No To Rules, Man 12″ – BLUE/PINK VINYL (Hyperrealist) $8.99
* Gezoleen – Black Spaces Between Stars CD (Acerbic Noise Development) $6.99
* Ghost Mice / Saw Wheel – Split 12″ – MARBLE COLORED VINYL (No Idea) $6.99
* Government Warning – Paranoid Mess 12″ (Grave Mistake) $6.99
* Graves At Sea – Documents Of Greif 12″ – PICTURE DISC VINYL (Kreation) $8.99
* Grey Daturas – Return To Disruption 12″ (Heathen Skulls) $13.99
* Gull – The Thin King 7″ – GREEN COLORED VINYL (Molsook) $3.99
* Hammers Of Misfortune – Fields / Church Of Broken 2×12″ (20 Buck Spin) $12.99
* Hanna Hirsch – Tala Svart 12″ (Adagio) $9.99
* Haram – Drescher 12″ – YELLOW VINYL (Adagio 830) $9.99
* Heller Mason – The Mess I've Made CD (Gilead Media) $3.99
* Hellshock – Only The Dead Know The End Of War 12″ – PURPLE COLORED VINYL (Yellow Dog) $9.99
* Her Breath On Glass / Khere – Split 10″ – PINK COLORED VINYL (Sons of Vesta) $9.99
* Her Breath On Glass / Khere – Split 10″ (Sons of Vesta) $9.99
* Herds – Self-Titled 12″ (Fashionable Idiots) $9.99
* Hewhocorrupts / Phoenix Bodies – Split 10″+Calendar – BLUE COLORED VINYL (Gilead Media) $12.99
* Hewhocorrupts / Phoenix Bodies – Split 10″+Calendar – PINK COLORED VINYL (Gilead Media) $12.99
* Hex Machine – Run To Earth 12″ – YELLOW VINYL (Molsook Records) $7.99
* Hot Cross – Risk Revival CD (Paranoid) $4.99
* Humming Bird Of Death – Goatmeal 5″ – RED COLORED VINYL (Cowabunga) $5.99
* Humming Bird Of Death – Show Us the Meaning of Haste 12″ (Cowabunga) $7.99
* Hummingbird of Death – Show Us The Meaning Of Haste CD (To Live A Lie) $6.99
* I Object – Teaching Revenge 12″ (Alternative Tentacles) $4.99
* In First Person / Storm The Bastille – Split 12″ – PINK COLORED VINYL (Protagonist) $9.99
* Indian Summer – Hidden Arithmetic (reissue of Live Blue Universe + bonus material) CD (Future Recordings) $9.99
* Infection Code – Intimacy 12″ – WHITE BLACK HAZE VINYL (KNVBI Records) $5.99
* Insult – Emo-Bashing Fastcore Pimps 12″ (Power It Up) $8.99
* Iron Lung / Shank – Split CD (625 Thrashcore) $6.99
* Javelina – Self-Titled 12″ – 180 GRAM VINYL (Triumph Of Death) $15.99
* Joshua Fit For Battle – To Bring Our Own End 12″ – CLEAR VINYL (Shock Value) $10.99
* Juice Tyme – Self-Titled 7″ – MARBLE COLORED VINYL (Forcefield) $2.99
* Kah Roe Shi – Shi CD (Utarid) $6.99
* Karysun – Interceptor CD (Karysun) $6.99
* Keitzer – As The World Burns 12″ (React With Protest) $7.99
* Kidcrash – Jokes CD (Init) $6.99
* Kidcrash – Snacks 12″ – RED COLORED VINYL (Init) $12.99
* Kilara – 175 Millimeters 7″ (Thunder Lizard) $1.99
* Killie – Live at Shinjyuku Loft DVD (Oto) $5.99
* Korova – Another Happy Customer CD (Victimized) $4.99
* La Quiete – 2006-2009 CD (Sons of Vesta) $9.99
* La Quiete – Tenpeun CD IMPORT (Sons of Vesta) $7.99
* Lagrecia – On Parallels 12″ – GREY COLORED VINYL (Suburban Home) $7.99
* Landmine Marathon – Wounded 12″ – CLEAR / RED VINYL (Level Plane) $7.99
* Landmine Marathon / Scarecrow – Split CD (Level Plane) $4.99
* Leng T'Che / F' The Facts – Split CD (Power It Up) $8.99
* Life & Times, The – Tragic Boogie 12″ – RED COLORED VINYL (Hawthorne Street) $9.99
* Light Yourself On Fire – Intimacy 12″ – CMYK SPLATTER COLORED VINYL (Seventh Rule) $10.99
* Light Yourself On Fire / Nadir – Split 7″ – BABY BLUE COLORED VINYL (Self Released) $3.99
* Lords / In Tongues – Split 7″ (Hyperrealist) $3.99
* Lords / In Tongues – Split 7″ – YELLOW VINYL (Hyperrealist) $3.99
* Loser Life – I Have Ghosts And I Have Ghosts 12″ – CLEAR COLORED VINYL (Magic Bullet) $7.99
* Lye By Mistake – Arrangements for Fulminating Vective CD (Lambgoat) $3.99
* Lymbyc Systym – Carved By Glaciers CD (Magic Bullet) $5.99
* Mae Shi / Rapider Than Horsepower, The – Do Not Forget The Potential 12″ (Nar Shardaa) $7.99
* Maladie – Self-Titled CD (Nuestra Lengua) $4.99
* Mandelbrot Set – Hotel Magnolia 12″+CD – CLEAR COLORED VINYL (Dirty Old Label) $11.99
* Mass Movement of the Moth / Polar – Split 7″ – COLORED VINYL (Discern Direction) $2.99
* Massgrave – 5 Years Of Grinding Crust Core CD (Power It Up) $9.99
* Meet Me In St. Louis – Variations On Swing 12″ – CLEAR BLACK SPLATTER COLORED VINYL (Denovali) $9.99
* Meneguar – I Was Born At Night 12″ (Nar Shardaa) $10.99
* Mesrine – Going to the Morgue 12″ – YELLOW COLORED VINYL (Sonic Deadline) $10.99
* MGR – Nova Lux 12″ (Viva Hate) $9.99
* Mills Of God – Call Of The Eastern Moon 12″ – 180 GRAM VINYL (Modus Operandi) $15.99
* Mills Of God – Call Of The Eastern Moon CD (Modus Operandi) $11.99
* Minion – Out Of The Carnage Let Me Back In 12″ – COLORED VINYL (Adagio 830) $7.99
* Mortician – Re-Animated Dead Flesh 12″ – PICTURE DISC- (Noiseville) $5.99
* N(5) – Bergen: Skizzen + Notizen 12″ (Consoulng Sounds) $9.99
* Nadja – The Bungled & The Botched 12″ (Blocks Recording Club) $13.99
* Nakatomi Plaza – Unsettled 12″ – ROOTBEER VINYL (Brightskull Records) $6.99
* Nanda Devi – The Fifth Season CD (Cavity) $5.99
* Napalm Death – Noise For Musics Sake 2xCD (Earache) $5.99
* Neil On Impression – L'Oceano Delle Onde Che Restano Onde Per Sempre 2×12″ (Denovali). $20.99
* Nekrasov – Cognition of Splendid Oblivion CD (Seige Of Power) $7.99
* Nekrasov / Aderlating – Split 12″ (Chrome Leaf) $11.99
* Nerve City – I F'ed Death 10″ (Kill Shaman) $7.99
* New Bruises – Transmit Transmit 12″ (Kiss Of Death) $6.99
* New Bruises – Transmit Transmit CD $5.99
* New Rome, The – Self-Titled 12″ (Ash From Sweat) $7.99
* New Rome, The – Self-Titled CD (Ash From Sweat) $4.99
* Nonlinera System Theory – Fourier's Outrage CD (Subsound) $3.99
* Northless – No Quarter For The Damaged 12″+CD (Halo Of Flies) $10.99
* Ocean Chief – Den Fˆrste 12″ (Electric Earth) $15.99
* One Second Riot – Self-Titled 12″ – WHITE COLORED VINYL (Music Fear Satan) $12.99
* One Starving Day – Atlas Coelestis 2×12″ (Narshardaa) $17.99
* One Starving Day – Broken Wings Lead Arms To The Sun 12″ + 7″ – BLACK AND WHITE VINYL (KNVBI) $14.99
* Orphaned Land – Mabood 2×12″ – CLEAR VINYL (Profound Lore) $19.99
* Oxbow – Songs For The French 12″ – GREY COLORED VINYL (Hydra Head) $9.99
* Oxbow – The Narcotic Story 12″ – RED COLORED VINYL (Black Diamond) $9.99
* Phantom Family Halo – Monoliths & These Flowers Never Die 2×12″ (Karate Body) $18.99
* Phoenix Bodies – Raise The Bullsh!t Flag CASSETTE (Utarid) $4.99
* Positive Noise – No Hardcore 7″ (Headcount) $2.99
* Pusher – Self-Titled CD (Auxiliary) $8.99
* Rachel Grimes – Book Of Leaves 12″ (Karate Body) $14.99
* Raein – Ogni Nuovo Inizio CD (Red Cars Go Faster) $9.99
* Ravens Creed – Albion Thunder 12″ (Doomentia) $11.99
* Raw Radar War / Deer Creek – Split 12″ (Game Two Records) $9.99
* Religious As F' / Mehkago N.T. – Split 7″ – BROWN COLORED VINYL (No Idea) $2.99
* Romance Morgue, The – The Demo Days CDep (Alone) $4.99
* Saddest Landscape, The – The Sound of the Spectacle 12″ – BLUE COLORED VINYL (Nar Shardaa) $12.99
* Sasqrotch – Self-Titled 7″ – WHITE COLORED VINYL (Rock Is Hell) $5.99
* Sean – Bike Messengers Aren't As Cool As They Think They Are CD (Blackhouse Records) $5.99
* Serpent Throne – Ride Satan Ride 12″ – 180 GRAM VINYL (Modus Operandi) $15.99
* Serpent Throne – The Battle Of Old Crow 12″ – 180 GRAM VINYL (Modus Operandi) $16.99
* Shameless Kiss Of Vanity, The – Vol. 3 CASSETTE+CD-R (Release The Bats) $8.99
* Skeletonwitch – Breathing The Fire CD (Prosthetic) $9.99
* Sofy Major – Maxi 12″ (IRAE) $11.99
* Sofy Major / One Second Riot – Split 10″ (IRAE) $7.99
* South, The / Hypatia – Split 12″ (Square of Opposition) $5.99
* Suppression – Release The Piranha CD (Underadar) $2.99
* Sweet Cobra – Bottom Feeder 12″ – 1-SIDED ETCHED VINYL (Seventh Rule) $9.99
* Sweet Cobra – Forever CD (Hawthorne Street) $8.99
* Sweet Cobra – Praise CD (Seventh Rule) $8.99
* Sylvester Staline / F.U.B.A.R – Split CD (Bones Brigade) $5.99
* Tanks, The – Keep Breaking Down 12″+CD (Scenester Credentials) $7.99
* Teenage Cool Kids – Foreign Lands 12″ – 180 GRAM BLUE COLORED VINYL (Protagonist) $9.99
* Thank God / Deepslauter – Split – 1-Sided VINYL (These Family Jams) $7.99
* They And The Children – Thoughts On Becoming A Ghost 12″ – PURPLE/SILVER VINYL (Shock Value) $8.99
* Through The Eyes Of The Dead – Bloodlust 12″ (Prosthetic) $7.99
* Tides – From Silence 12″ (Modus Operandi) $12.99
* Tides – From Silence CDep (Teenage Disco Bloodbath) $5.99
* Titan – Colossus 12″ (React With Protest) $11.99
* Titan / June Paik – Split 12″ (React With Protest) $10.99
* Tomydeepestego – Odyssea CD (Subsound) $7.99
* Tony Danza Tap Dance Extravaganza, The – Self-Titled CD (Corrosive) $4.99
* Torche – Kimbo Smith Muscle T-Shirt – Size: EXTRA LARGE (Torche) $10.99
* Torche – Kimbo Smith Muscle T-Shirt – Size: LARGE (Torche) $10.99
* Torche – Kimbo Smith Muscle T-Shirt – Size: MEDIUM (Torche) & LARGE $10.99
* Tornavalanche – No Money No Problems 12″ (Init) $9.99
* Tornavalanche – No Money No Problems CD $5.99
* Total F'ing Destruction – Peace, Love and Total F'ing Destruction Cassette (Pure Minds) $5.99
* Traindodge – I Am Forever 12″ (Little Mafia) $9.99
* Trencher / Esquilax – Split 10″ – BLACK WITH WHITE HALO COLORED VINYL (Crucificados) $5.99
* Tsukimono – Time Canvas 2×12″ (Release The Bats) $14.99
* Tulsa Drone – Songs From A Mean Season CD (Perpetual Motion Machine) $6.99
* Tusk – The Resisting Dreamer 12″ (Tortuga) – LIM 1 $9.99
* UFO Gestapo – Vatependr 12″ (Streaks) $15.99
* Umbrella / Everykidlovesaclown – Split 12″ – PICTURE DISC VINYL (Crucificados) $7.99
* Unearthly Trance – Electrocution 12″ – GREEN WITH BLACK SPLATTER COLORED VINYL (Relapse) $9.99
* Valkyrie – Self-Titled 12″ – BROWN CREAM COLORED VINYL (Kreation) $9.99
* Various Artists – Sound Cartography Vol.1 12″ (Nancy Jo) $11.99
* Various Artists – You've Got Your Orders Vol. 2 CD (Chrome Peeler) $2.99
* Vulturum – Vineta 12″ (Sangue Dischi) $9.99
* Wetnurse – Invisible City 2×12″ – GREEN BLACK SPLATTER COLORED VINYL (Seventh Rule) $15.99
* Whorehouse Massacre, The – IV 12″ (Streaks Records) $16.99
* Winters In Osaka – Molded To Crawl CD (Haunted Hotel) $5.99
* Wolfbrigade – Comalive 12′ (Farewell) $7.99
* Wolfbrigade – In Darkness You Feel No Regrets 12″ (Destructure) $7.99
* Wolfbrigade – Prey To The World 12″ (Unrest) $9.99
* Wyqm – Self-Titled 12″ – YELLOW WITH BLACK SPLATTER COLORED VINYL (Death Agonies & Screams) $7.99
* Zann – Three Years In The Desert Cassette (Pure Minds) $2.99
* Zann / Burial Year – Split 12″ (Adagio 830) $13.99
* Zeroin – The Death Of A Man Called Icarus CD (Subsound) $7.99
YIKES!
– Robotic Empire – Online Store
OTHER CRAP:
Robotic Empire's Twitter
Robotic Empire on Myspace
Robotic Empire on Facebook
Robotic Empire's email list
Robotic Empire's news blog/archive
Robotic Obscurities free audio archive
Robotic Empire's youtube channel
Robotic Empire Wholesale
Robotic Empire's main website
Robotic Empire at GimmeSound free audio