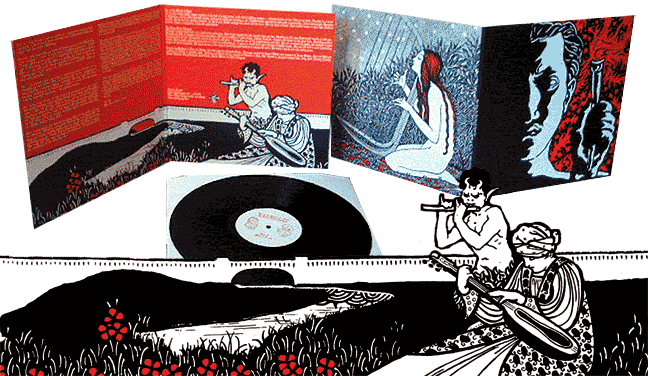 We are psyched to announce that the previously (and quickly) sold out THOU EP, Baton Rouge, You Have Much to Answer For, is now available again on both vinyl and cassette. We re-pressed the vinyl on black (1000) and tapes on red (200). Same artwork, same inserts, same music and all… just available again, this time with a sweet corresponding t-shirt printed up as well. The shirt is (reappropriated) artwork from the gatefold LP jacket's back cover, and turned out really awesome. 2-color front, 1-color back and red & black ink on "athletic grey" sweatshop-free t-shirts; you can see a bigger image of the front artwork here. There's no package deals or anything set up, but we tried to keep the prices pretty low on all this stuff.
For those living under a rock and still unfamiliar with the grossly prolific THOU, they are easily our favorite southern sludge/doom band in years and a true force to be reckoned with both live and on record. A seething ode to their city of inception, Baton Rouge, You Have Much To Answer For contains by far some of THOU's best material released to date, and one of the most downtrodden recordings we've been a part of over the past 11+ years of doing this label. It's an "EP" because it's 4 songs total, but it's also over 30 minutes of crushing music, set to the tune of the end of times. Like all of their recordings, its available for free download on their website or if you're oldschool and want the physical "real thing", this EP and most of the rest of the available THOU releases are available now in the Robotic Empire – Online Store.
Related to this (but not actually our release) is a killer writeup NPR (!) just gave in regards to both THOU's live experience and their new album Summit. Very cool to see such a respected publication shine a little light down into the underground, this time directly onto our friends. You can read the article here and/or pre-order the new Summit CD release from our brethren at Gilead Media (we'll be stocking it too as soon as its publicly available).

At another end of the hardcore/metal spectrum is the recent HEWHOCORRUPTS Midi of Profits USB Rubber Bracelet release. Attacking capitalism through a more tongue-in-cheek approach (vs THOU's somewhat blunt methods), HEWHOCORRUPTS have flown the "corporate grindcore" flag for years, culminating in probably their most absurd release ever (exceeding a credit card-sized CD housed in a wallet, a NSFW split calendar and a 7″ packaged with shredded US currency). Yes, that's right… this is a functional AND fashionable USB-chip-infused rubber bracelet with meticulously recreated MIDI-based songs held within, inspired in part by their classic Master of Profits EP which displayed a masterful love/hate relationship with METALLICA. Long story short, this 1gb USB chip bracelet is packed with music, videos, tabulator, animated GIFs and other awesome nonsense to justify the pure stupidity of creating this thing. Limited to 200 copies and available now in the Robotic Empire – Online Store.
Beyond the recent label activity, there's also been a steady stream of killer new stuff and restocks in the Robotic Empire – Online Store. This week we've got another "exclusively distributed" item, the new one from Swedish post-metal outfit SUFFOCATE FOR FUCK SAKE. We couldn't keep their previous stuff in stock, and are the only US outlet you can order this monster 2xLP from. Also new in the expletive-band-name front is the long-awaited blistering split 7″ from SHITSTORM and CONGA FURY, showcasing easily the heaviest n' fiercest SHITSTORM tracks to date. Solely re-stocking cassettes this week, mostly from our screamy-hardcore-lovin' Malaysian friends at Utarid, here's the full list:
NEW ITEMS:
* Black Shape Of Nexus – Mannheim Live Cassette (QSD) $4.99
* Conga Fury / Shitstorm – Split 7″ (To Live A Lie) $4.99
* Daitro – Cendresdes Cendres, Je Me Consume – BLACK VINYL 10″ (Music Fear Satan) $15.99
* Daitro – Cendresdes Cendres, Je Me Consume – CLEAR COLORED VINYL 10″ (Music Fear Satan) $15.99
* Suffocate for Fuck Sake – Blazing Fires and Helicopters on the Front Page of the Newspaper. There's a March Going on and I'm Marching in Heavyboots 2×12″ (Blue Grass) $24.99
* Thou – Baton Rouge, You Have Much To Answer For – BLACK VINYL 12″ (Robotic Empire) $12.99
* Thou – Harp Lady Size: DOUBLE EXTRA LARGE T-Shirt (Robotic Empire) $10.99
* Thou – Harp Lady Size: EXTRA LARGE T-Shirt (Robotic Empire) $10.99
* Thou – Harp Lady Size: LARGE T-Shirt (Robotic Empire) $10.99
* Thou – Harp Lady Size: MEDIUM T-Shirt (Robotic Empire) $10.99
* Thou – Harp Lady Size: SMALL T-Shirt (Robotic Empire) $10.99
* Thou – Harp Lady Size: YOUTH LARGE T-Shirt (Robotic Empire) $10.99
* Three Steps To The Ocean – Until Today Becomes Yesterday CD (Frohike) $9.99
RESTOCKS:
* Daitro – 2004-2007 Discography Cassette (Utarid) $4.99
* Ghostlimb – Alea Eacta Est Cassette (Utarid) $4.99
* Kidcrash – Snacks Cassette (Utarid) $4.99
* La Quiete – La Fine Non E' La Fine' Cassette (Utarid) $4.99
* Osceola – Discography Cassette (Utarid) $4.99
* Thou – Baton Rouge, You Have Much To Answer For Cassette (Robotic Empire) $5.99
Since this round of new jams is pretty short, we figured it was worth mentioning last week's killer new stuff as well:
NEW ITEMS: (from 07/25/10)
* Dad They Broke Me – ROT 12″+CD (We Empty Rooms) $15.99
* Dove – Self-Titled Cassette (Financial Ruin) $7.99
* Fangs of a TV Evangelist – Self-Titled 12″+CD (We Empty Rooms) $15.99
* Gehenna – Hope Guzzo Bootleg – COLORED VINYL 12″+7″ (A389) $12.99
* Hewhocorrupts – Midi of Profits USB Bracelet (Robotic Empire) $14.99
* Holy Mountain – Diapers Full Live Cassette (Financial Ruin) $5.99
* Integrity – To Die For – RED COLORED VINYL 10″+7″ (A389) $11.99
* Moho – He Visto La Cruz Al RevÈs 12″ (Feast Of Tentacles) $15.99
* Seraphim – Self-Titled – COLORED VINYL 7″ (A389) $4.99
* Souvenir's Young America – The Name Of The Snake 12″ (Init) $13.99
* Souvenir's Young America – The Name Of The Snake CD (Init) $9.99
* Thou / The City Is The Tower – Split 12″ (Init) $13.99
* Wolvhammer – Black Marketeers Of World War III CD (Init) $9.99
* Worlds – Unforeseen Paths Cassette (Financial Ruin) $8.99
RESTOCKS: (from 07/25/10)
* Abandoned Hearts Club, The – The Initial Confessions Of CD (Init) $7.99
* Back When – Swords Against The Father 7″ (Init) $4.99
* Battlefields – Stained With The Blood Of An Empire CD (Init) $8.99
* Buried Inside – Chronoclast 12″ – 180GRAM VINYL (Init) $19.99
* Cougar Den – Keepondrifter 12″ – BLUE COLORED VINYL (Init) $12.99
* Integrity – Walpurgisnacht 7″ – COLORED VINYL (A389) $4.99
* Melt Banana – Initial 7″ (Init) $5.99
* Spirit Of Versailles, The – Discography 2xCD (Init) $9.99
There it is folks. Enjoy!
– Robotic Empire – Online Store