This diverse update first sees us with two influential bands' catalog items back in print, with vinyl from ISIS and PG.99 getting the re-press treatment. Although the sonic differences are significant, each group created a lasting legacy that still holds long after their disbanding.

ISIS' landmark albums Oceanic and Panopticon are both back in action on the 2xLP format, each with "reverse board" printing throughout (Oceanic getting the massive "tip-on" style jackets, and Panopticon printed via reverse-board for the very first time). The band requested simple black-vinyl for the entire pressing and after a smattering of variations over the years, this keeps things nice and simple.
* ISIS items in the Robotic Empire – Online Store (including vinyl and t-shirts)
* ISIS on Facebook


PAGENINETYNINE reunited last year for a couple of well received and emotionally cathartic live performances. To celebrate, we issued their long out-of-print collections CD, Singles, on the overdue vinyl format. The entire pressing sold out, so a shorter run of 250 more on black vinyl have just been pressed to fill the remaining silkscreened jackets we had kicking around. In classic makeshift fashion, some copies come with the proper "printed innersleeve" that houses the vinyl, and some copies come with a xerox insert of the same artwork instead. Keeping it DIY to keep it in print!
Related, we also recently re-printed two classic PG.99 t-shirt designs. Most sizes are still available, although before even announcing their availability they started heading right back out our doors.
* PAGENINETYNINE items in the Robotic Empire – Online Store (including vinyl, t-shirts and a screen print)
* PAGENINETYNINE on Facebook


Again sonically different but equally recommended, in celebration of TORCHE's magnanimous new album Harmonicraft coming out later this month, we've decided to discount the closely-related FLOOR discography 8xCD set, Below & Beyond. Everything this seminal sludge-turned-pop outfit ever recorded is contained within this massive collection, and with the deluxe vinyl edition now sold out, this 8xCD release is the only (physical) way to own the monstrous amount of material these geniuii churned out.
The price is tightnice too, as if you enter the "FLOORTWENTY" coupon code at checkout, the price drop to, ahem, $20. Pretty galldarn good for 8 stacked CDs, a bigass 12″x12″ 32(!)-page booklet and a custom gatefold jacket holding it all together. BONUS SCHWAG: coupon-code enterers also get a free FLOOR 8xButton set as well, depicting all the album covers from the discography. If you've slacked on this crucial mega-release thus far, hit that up with the quickness as the discount+hookup only goes through the end of this month.
* FLOOR items in the Robotic Empire – Online Store (including the discography, buttons, lots of t-shirts and a 2xDVD)
* FLOOR on Facebook
FLOOR also has three live gigs on deck in the coming months as well. If you're on the US East Coast, or in England… don't miss em!
* 4/14 – Savannah, GA @ Statts Benefit Block Party – w/ US CHRISTMAS, WITHERED, lots more – more info: http://www.friendsofstatts.com
* 5/26 – London, UK @ All Tomorrow's Parties – w/ MOGWAI, CODEINE, HARVEY MILK, lots more – more info: http://www.atpfestival.com
* 7/6-7/8 – Miami, FL @ 305 Fest – w/ TORCHE, HOUSE OF LIGHTNING, BASTARD NOISE, lots more – more info: http://305-fest.blogspot.com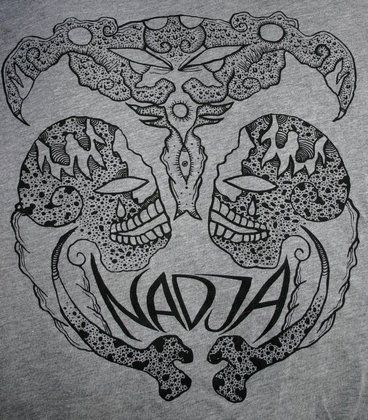 We also have a fantastic and enveloping new t-shirt design from our favorite prolific doom-couple, NADJA! The Berlin-via-Canada duo have teamed up with Berlin-via-Sweden tattoo artist HLG for this brilliant new shirt. Simple but stark, black ink printed on grey supersoft "Next Level" brand t-shirts. Need a new favorite shirt? Seek ye no further! This really is nice…
* NADJA (and related) items in the Robotic Empire – Online Store (including shirts, CDs, vinyl, a book and more)
* NADJA on Facebook
Besides that rad new shirt and what we consider essential Robo catalog items re-pressed or discounted, we've also had a healthy amount of bombastic new items and re-stocks enter our world for this update.
On the new item tip, we're talking turkey bout killer vinyl from AMENRA, CLOUD MOUTH, DAITRO, DARK CASTLE, KEN MODE, KIDCRASH, MT. ASLEEP, SED NON SAETIA, TUBERS and more.
For restocks, lets rap about an ALGERNON CADWALLADER re-up for all you jangly mofos, BLACK COBRA vinyl and THE BODY 2xLPs are At A Loss essentials that are going quick, CAPSULE's latest ripper on the ltd waxy, COLISEUM, GIVE UP JAH GHOST, PUNCH, TOUCHE AMORE and TRAP THEM bludgeoners from Deathwish, DES ARK and PYGMYLUSH prettys LPs from Lovitt, MELT BANANA and smokeloads more from the prolific Init, the cool/oldschool-esque DON'T BE SWINDLE zine, plus a handful of other freaky gems weaved throughout just the restocks for this round. Here're the full lists:
NEW ITEMS:
* Algernon Cadwallader – Parrot Flies 12″ (Hot Green) $9.99
* Amenra / Hive Destruction – Split 10″ (Init) $13.99
* Battlefields – Agassiz CD (Init) $7.99
* Cloud Mouth – Keep Well 10″ (Ice Age) $9.99
* Cloud Mouth – That Ghost is Always With Me 12″ (Ice Age) $9.99
* Daitro – Laisser Vivre Les Squelettes 12″ (Echo Canyon) $14.99
* Dark Castle – Spirited Migration – 180 GRAM – GREEN COLORED VINYL 12″ (At a Loss) $14.99
* Grin and Bear It – Self-Titled 7″ (Allergic To Fun) $4.99
* Hive Destruction – Secretvm/Veritas CD (Init) $7.99
* Ken Mode – Venerable 12″ (Init) $14.99
* Kidcrash – Naps 12″ (Init) $12.99
* Monarch – Omens CD (At A Loss) $10.99
* Mountain Asleep – Smile Medicine 7″ (Kid Sister Everything) $4.99
* Nadja – Bone Blight – Size: EXTRA LARGE T-Shirt (Robotic Empire) $14.99
* Nadja – Bone Blight – Size: LARGE T-Shirt (Robotic Empire) $14.99
* Nadja – Bone Blight – Size: MEDIUM T-Shirt (Robotic Empire) $14.99
* Nadja – Bone Blight – Size: SMALL T-Shirt (Robotic Empire) $14.99
* Old Growth – Out Of The Sand – COLORED VINYL 12″ (Echo Canyon) $14.99
* Same Sex Dictator – From Beneath You it Devours Cassette (Long Way) $4.99
* Sed Non Satiata – Self-Titled – COLORED VINYL 12″ (Echo Canyon) $14.99
* Sleeping In Gethsemane / Loom – Split 7″ (Init) $4.99
* Tubers – Anachronous – TEAL COLORED VINYL 12″ (Echo Canyon) $14.99
RESTOCKS:
* Abandoned Hearts Club, The – The Initial Confessions Of 7″ – CLEAR COLORED VINYL (Init) $4.99
* Algernon Cadwallader – Some Kind Of Cadwallader 12″ (Security Blanket) $9.99
* Assailant, The – Nurse – PICTURE DISC 7″ (Init) $5.99
* Battlefields – Entourage Of The Archaic 12″ – GREEN COLORED VINYL (Init) $10.99
* Black Cobra – Feather And Stone 12″ – RED COLORED VINYL (At A Loss) $14.99
* Body, The – All The Waters Of The Earth Turn To Blood 2×12″ – GREY & DARK GREY COLORED VINYL (At A Loss) $19.99
* Body, The – All The Waters Of The Earth Turn To Blood 2×12″ – WHITE COLORED VINYL (At A Loss) $19.99
* Buried Inside – Chronoclast 12″ – 180g VINYL (Init) $19.99
* Capsule – No Ghost 12″ – GREY COLORED VINYL (Rorschach) $12.99
* Coliseum – True Quiet / Last Wave 7″ (Deathwish) $4.99
* Des Ark – Don't Rock The Boat, Sink The F'er 12″ – ORANGE COLORED VINYL (Lovitt) $14.99
* Don't Be Swindle – Issue #1 Zine (Don't Be Swindle) $3.50
* Give Up The Ghost – We're Down Til We're Underground 12″ – TRANSPARENT ORANGE COLORED VINYL (Deathwish) $11.99
* Isis – Oceanic 2×12″ (Robotic Empire) $19.99
* Isis – Panopticon 2×12″ (Robotic Empire) $19.99
* Melt Banana – Initial 3″ Mini CD (Init) $5.99
* Melt Banana – Initial 7″ (Init) $5.99
* Pageninetynine – Girl w/ Heart T-Shirt – Size: DOUBLE EXTRA LARGE (Robotic Empire) $15.99
* Pageninetynine – Girl w/ Heart T-Shirt – Size: EXTRA LARGE (Robotic Empire) $14.99
* Pageninetynine – Girl w/ Heart T-Shirt – Size: LARGE (Robotic Empire) $14.99
* Pageninetynine – Girl w/ Heart T-Shirt – Size: MEDIUM (Robotic Empire) $14.99
* Pageninetynine – Girl w/ Heart T-Shirt – Size: SMALL (Robotic Empire) $14.99
* Pageninetynine – Girl w/ Heart T-Shirt – Size: YOUTH LARGE (Robotic Empire) $14.99
* Pageninetynine – Owl T-Shirt – Size: DOUBLE EXTRA LARGE (Robotic Empire) $15.99
* Pageninetynine – Owl T-Shirt – Size: EXTRA LARGE (Robotic Empire) $14.99
* Pageninetynine – Owl T-Shirt – Size: LARGE (Robotic Empire) $14.99
* Pageninetynine – Owl T-Shirt – Size: MEDIUM (Robotic Empire) $14.99
* Pageninetynine – Owl T-Shirt – Size: SMALL (Robotic Empire) $14.99
* Pageninetynine – Owl T-Shirt – Size: YOUTH LARGE (Robotic Empire) $14.99
* Pageninetynine – Singles 12″ (Robotic Empire) $11.99
* Pulling Teeth – Paranoid Delusions | Paradise Illusions 12″ (Deathwish) $11.99
* Punch – Nothing Lasts 7″ – BLUE COLORED VINYL (Deathwish) $4.99
* Pygmy Lush – Mount Hope 12″ (Lovitt) $14.99
* Same Sex Dictator – From Beneath You it Devours 12″ (Long Way) $9.99
* Spirit Of Versailles, The – Discography 2xCD (Init) $9.99
* Sunflare – Self-Titled Cassette (Cubic Pyramid) $6.99
* Sunflare – Young Love 12″ (Cubic Pyramid) $18.99
* Touche Amore – Parting The Sea Between Brightness and Me 12″ (Deathwish) $10.99
* Trap Them – Seizures In Barren Praise 12″ (Deathwish) $11.99
ALLLL that gravy and more is available NOW in the Robotic Empire – Online Store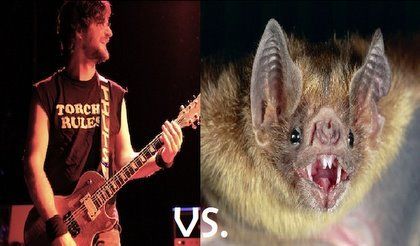 AND last but most likely not least, some crazy mainstream news activity has been surrounding TILTS guitarist/vocalist (and TORCHE guitarist) Andrew Elstner's recent run in with a rogue bat. A viral press bonanza has stemmed from a freak accident where a bat PISSED IN ANDREW'S EYE and things snowballed from there. There was a rabies scare, freaked out friends/family and subsequent emergency treatment… all detailed on MSNBC, MTV, BUZZFEED, PITCHFORK and more. This is too absurd not to share (you can't make this kinda stuff up!)… so have at it if you've been under a rock:
* MSNBC Coverage
* MTV Coverage
* Buzzfeed Coverage
* Pitchfork Coverage
* Lambgoat Coverage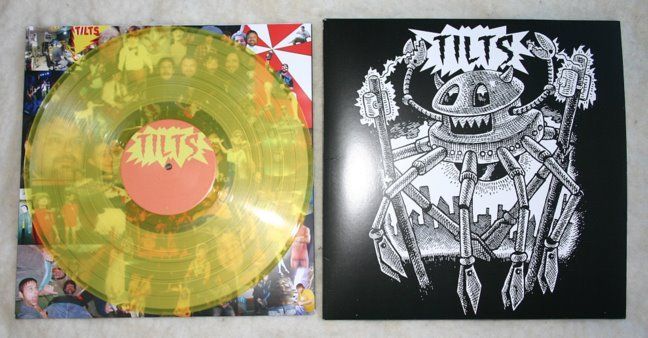 Also significant: TILTS' infectious vinyl debut dropped about a month back and has sold swiftly (we've got roughly 50 copies left in house). You can get this unlucky man's gloriously catchy music direct from us:
* TILTS' debut album in the Robotic Empire – Online Store
* TILTS on Facebook
* TORCHE items in the Robotic Empire – Online Store (including vinyl, CDs, t-shirts and hoodies)
* TORCHE on Facebook
Appropriately (since they have a bangin new album on deck and all), TORCHE is touring their faces off henceforth, so go see these professional barnburners in ze flesh:
* 4/05 – Tampa, FL @ Crowbar
* 4/06 – Gainesville, FL @ The Atlantic
* 4/07 – Miami, FL @ Churchill's
* 5/10 – Chapel Hill, NC @ Local 506
* 5/11 – Atlanta, GA @ 529
* 5/12 – Orlando, FL @ Will's Pub
* 6/01 – Charlotte, NC @ Amos' Southend #
* 6/02 – Atlanta, GA @ The Masquerade #
* 6/03 – Nashville, TN @ Exit @ In #
* 6/05 – Oklahoma City, OK @ The Conservatory #
* 6/07 – Tempe, AZ @ Club 910 #
* 6/08 – Long Beach, CA @ Ink N Iron Festival
* 6/09 – San Francisco, CA @ Slim's #
* 6/11 – Seattle, WA @ Studio Seven #
* 6/12 – Portland, OR @ Hawthorne Theatre #
* 6/13 – Vancouver, British Columbia @ Rickshaw Theatre #
* 6/15 – Salt Lake City, UT @ Urban Lounge #
* 6/16 – Denver, CO @ The Summit Music Hall #
* 6/18 – St. Louis, MO @ Firebird #
* 6/19 – Cincinnati, OH @ Taft Theatre #
* 6/20 – Flint, MI @ The Machine Shop #
* 6/21 – Toronto, Ontario @ The Opera House #
* 6/22 – Montreal, Quebec @ Les Foufounes Electriques #
* 6/23 – Cambridge, MA @ Middle East Downstairs #
* 6/24 – Atlantic City, NJ @ Orion Music and Arts Festival
* 7/06 – Miami, FL @ 305 Fest
# = w/ CORROSION OF CONFORMITY, BLACK COBRA and GAZA