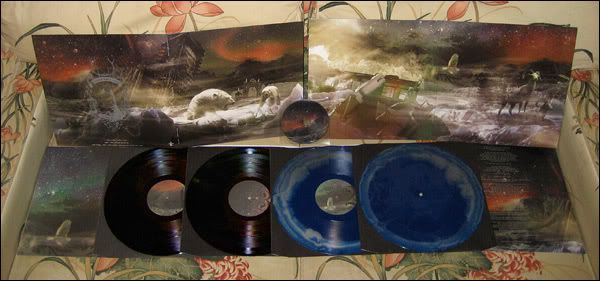 Apologies for the blitzkrieg of recent updates, but there's just 3 days left before the Robotic Empire – Online Store will stop processing new orders… as the time is very near for us to break down all the shelves, pack up all the boxes and move this whole mailorder operation to the other side of the country.
We're not leaving until early April, so there is still plenty of time to pull, pack and ship all orders received by/on March 15th. This also includes all orders for the brand new A STORM OF LIGHT / NADJA – Primitive North split 2×12″+CD that we finally just got in today! This beast of a release turned out simply incredible and we're really happy to have a new release available after months of slow label activity, especially one of this caliber.
What also rules is that A STORM OF LIGHT will be touring across Europe in early April. Upon their return to the states they hit most of the eastern-North America in May with the killer blackmetal bands WOLVES IN THE THRONE ROOM and KRALLICE! Tour dates for STORM and a song from the split can be found here. NADJA's own European tour dates can be found here.
We've also received a small amount of straggling, last-minute items that really are getting here just in the nick of time. If you want anything from our Online Store, please get those orders in within the next 3 days, so we can ship it out before our move in early April! We will still be accepting orders during the move, but any orders that come in after March 15th will most likely take at least a month to ship to you. So please get those orders in now if you want anything with the quickness!
NEW ITEMS:
* A Storm Of Light / Nadja – Primitive North [split] – BLOOD MOON COLORED VINYL 2×12″+CD (Robotic Empire) – $21.99
* A Storm Of Light / Nadja – Primitive North [split] – GLACIER COLORED VINYL 2×12″+CD (Robotic Empire) – $21.99
* Frodus – Conglomerate International 2×12″ (Gilead Media) – $18.99
* Planks – Self-Titled 12″ (Nar Shardaa) – $13.99
* Shokei – Painkiller 12″ (Nar Shardaa) – $13.99
* Thou – The Retaliation of the Immutable Force of Nature – WHITE COLORED VINYL 12″ (Gilead Media) – $9.99
RESTOCKS:
* Nebula – Atomic Ritual CD (Liquor and Poker) – $7.99
* Saddest Landscape, The – The Sound of the Spectacle – BLUE COLORED VINYL 12″ (Nar Shardaa) – $13.99
And last (but certainly not least) there is still a MASSIVE site-wide sale right now where every music item in our Online Store that's over $4.99 is marked at least $1.01 off. This includes all CDs, vinyl, DVDs and cassettes… and many, many items are marked down significantly more as well. We're trying to get as much stuff out of here as possible before the move so please check out the site for a crazyinsane amount of discounted items! This sale ends in just a few days, with March 15th being both the last day this sale is active and the last day we're accepting orders to ship prior to the move!
Thank you!
Robotic Empire – Online Store